David Meggett was convicted of burglary and rape
David Meggett was convicted of burglary and rape
Former NFL star David Meggett was convicted of burglary and rape on Wednesday in connection to a January 2009 attack inside a North Charleston home. Meggett was sentenced to 30 years, to be served concurrently, on both charges.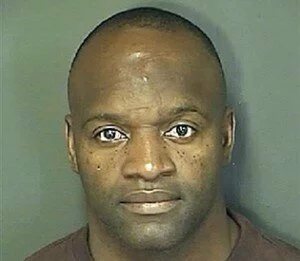 Meggett won't be eligible for parole for more than 25 years. According to The Post and Courier in South Carolina, Meggett's attorney indicated the former NFL star will appeal.
He was the recipient of the 1988 Walter Payton Award given annually to the nation's top player in the Football Championship Subdivision when he was with Towson.
Meggett then went on to star in the NFL between 1989 and 1998, playing six years with the New York Giants, three with New England and one with the New York Jets.
Meggett totaled 14,005 all-purpose yards in his career and his 3,708 yards on punt returns is currently second all-time in NFL history. Meggett had 129 all- purpose yards in the Giants' Super Bowl XXV victory over Buffalo and had his best statistical season with the Patriots in 1996, recording 1,966 all-purpose yards and his second trip to the Pro Bowl.
Since leaving professional football in 1998, he has had a history of alleged sex crimes. He was arrested on an alleged assault of an escort worker that ended with a hung jury in April 2000. In 2006 he was given two years of probation after being convicted of misdemeanor sexual battery for an accusation of sexually assaulting his former girlfriend.
He is still facing charges for an incident in September of 2008 during which a teenager told police that she was forced to have sex with Meggett after meeting him through a mutual friend.
Posted by on Nov 11 2010. Filed under Uncategorized. You can follow any responses to this entry through the
RSS 2.0
. You can leave a response or trackback to this entry