Bakrid Sms | Bakrid Messages | Bakrid Wishes | Bakrid 2010
Number of View: 71
Bakrid Sms | Bakrid Messages | Bakrid Wishes | Bakrid 2010
Bakrid or Eid al-Adha is an important religious holiday celebrated by Muslims worldwide to commemorate the willingness of Abraham (Ibrahim) to sacrifice his son Ishmael (Isma'il) as an act of obedience to God, before God intervened to provide him with a ram to sacrifice instead. The meat is divided into three equal parts to be distributed to others. The family retains one third of the share, another third is given to relatives, friends and neighbors, and the other third is given to the poor & needy.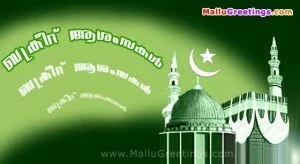 I wish you ALL a very happy and peaceful Eid.
May Allah accept your good deeds,
forgive your transgressions and ease the suffering of all peoples
around the globe.Eid Mubarik
When my arms can't reach people close to my heart.
I always hug them with my prayers.
May allah's peace be with you.
A very happy Bakrid mubarak 2 U.
May Allah this occasion flood your life with happiness,ur heart with love,ur soul with spirtual, ur mind with wisdom,wishing u a very Happy Bakrid Mubarik
Aaj Khuda ki hum par ho Meharbani,
Karde maf hum logo ki sare Naformani,
Eid Ka din aj aao milka kare yahi wada,
Khuda ka hi raho mai hum chalange sada.
Sare Musalman ko Bakrid Mubarak
Kuch Musarrat Mazeed ho jaye
Is bahane se Eid ho jaye
Eid milne jo Aap aajayein
Meri bhi Bakrid , Bakrid ho jaye
Jub kabi bin mange app per khushion ki bersaat ho, jub kabi app ka dil anjaani khushi se betaab ho, to samaj lena koi aap ko duaon main yaad ker raha hai. Happy Eid Day
Sunhari Dhup Barsat ke Bad,
thodi Si Hushi Har Bat ke Bad,
Usi Tarah Ho Mubarak App Ko
Ye Nayi Subah Kal rat Ke Bad
"Happy BAKRID day"