Chaganti Koteswara Rao : wiki | Biography | wikipedia | Chaganti Koteswara Rao Speeches
Number of View: 110
Chaganti Koteswara Rao : wiki | Biography | wikipedia | Chaganti Koteswara Rao Speeches
Brahmasri Chaganti Koteswara Rao is well-known speaker on subjects, which are related to Sanathana Darma. His parents were Sri Chaganti Sundara Siva Rao garu and Smt Suseelamma. Smt.Subramanyeswary is his wife and he has two children Shanmukhacharan and chy. Currently, he is working in Food Corporation of India, Kakinada.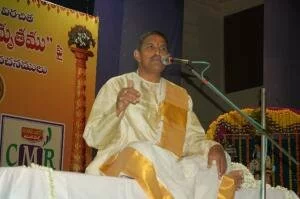 Sri Chaganti Koteswara Rao is a silent reader of "puranams" and blessed with Saraswathi kataksham. He started giving speeches (pravachanams) on "puranams" extempore and proved his spectacular command on spiritual pravachanams on various purnanams and mythologies such as Srimad Bhagavatham, Srimad Ramayanam, Soundaryalahari, Lalithasahasranama strotram etc.
He has delivered discourses for 42 days continuously at Kakinada, during 2005 on sampoorna ramayanam, during 2006 on Sreemad Bhagavatham for 42 days; during 2007 on Sivamahapuranam for 30 days; and during 2008 on Sree Lalitha Sahasranama Stothram for about 45 days. Additionally, he gave several speeches pravachanams on various topics throughout the country. The audience is fascinated with well refined reciting and thought provoking citations from various puranams extempore by him. He gives his discourses in Telugu language.
At en.srichaganti.net website, you can get all details about Brahmasri Koteswara Rao and his discourses. You can search his discourses, videos, bhakti, photo albums, calendar at en.srichaganti.net website. At discourses page, you can see his several discourses such as Sampoorna Sri, Ramayanam(2009), Discourses on Siva, Srimad Bhagavatam, Andhra MahaBharatham, Expand Sri Devi Ammavaru, Sri Devi Ammavaru, Rukmini Kalyanam, Go Maata Vaisistamu, Kanaka Dhara Stotram, Bhaja Govindam, Sri Guru Charitra, Sri Shirdi Saibaba, Kapila Theerthamu, Sri Ramuni Visistatha, Hanumad Vaibhavam, Sundara Kanda (2004), Sri Hanumad Jayanthi, Sri Tirumala Visistatha, Sri Panduranga Mahatyam, Sankaracharya Jeevitham, Sri Sankaracharya Shatpadi, Vivaha Vaibhavam, Sri Subramanya Jananam, Bhakthi, Social Responsibilities.